Custom Woodworking and Site Structures
We design and install custom wood structures of all types.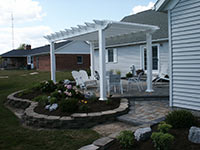 Want some shade over your patio? Then have us design and build a custom pergola that will not only give you the shade you desire, but will add a great architectural element to your property. Need a deck, privacy screen or trellis? We do those too in treated pine, cedar, or composite materials.