Concrete Paver Installation
Whether it's a patio, walkway, or driveways application, nothing carries the same impact as a paver installation for long term durability and timeless elegance.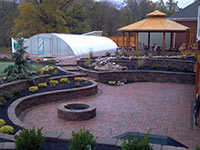 Proper concrete paver installation is critical, and Northwood Gardens has extensive experience in the best installation methods. Curves, angles, borders, quilting, inlays… there are no limits to what can be done with paver design.